Good evening!
I know it's been a while since I have posted my last recipe but I've been a bit busy during the last few weeks. Anyway, here we are with the next one: the crostata. Crostata is a typical italian tart, with a nice crust and a soft heart. It's relly quick to make and it's perfect for different occasions such as pic nics, b-days or just for a dinner. For our recipe, I topped the cake with a home made crema pasticcera and fresh fruit. Alternatively you can use marmelade or jam.
What you need
for the pastry:
120 g flour 00
4 egg yolks
a pinch of sea salt
100 g sugar
100 g unsalted butter – room temperature
for the cream (crema pasticcera):
1/2 cup (100 gr) sugar
4 egg yolks
2 tablespoon of flour
2 cups (500 cc) milk
lemon rind or lemon flavour
How to make it:
TIP – 10 minutes before starting you need to prepare the butter: place it on a plate and cut it into thin slices. Keep it at room temperature.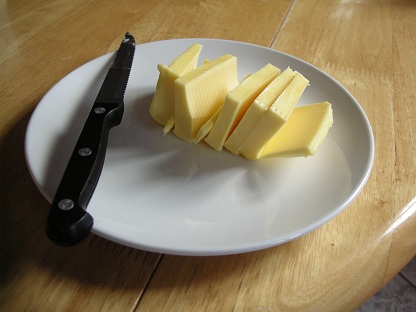 Sift the flour in a bowl, add the softened butter and start working the ingredients with your fingers. You should obatin a dry crumbled mixture.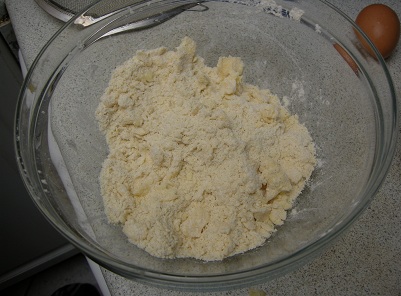 Add the eggs, the sugar and the pinch of salt and mix the ingredients togheter.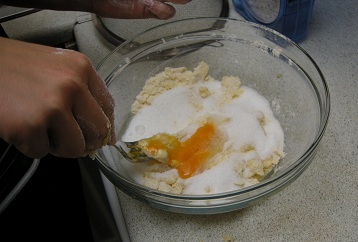 Transfer the mixture on a work surface and work it quickly with your hands until you get a nice and smooth dough.
If your mixture sticks on the table (or on your hands) use some flour to give it more conistency. The result has to be a smooth "ball"(see picture below). Once you have your pastry ready place it on a plate and let it aside for 15 minutes. A good tip is to cover it with a cloth or some film.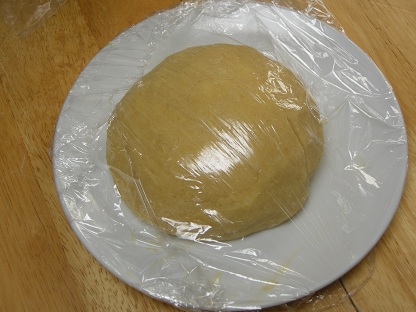 In the meanwhile, the cream can be prepared according to the following instructions:
Place the egg yolks in a sauce pan and add the sugar.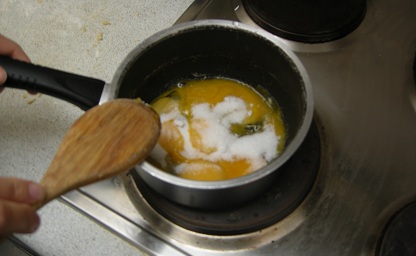 Beat them together with a wooden spoon and gently sift in the flour. Whisk thoroughly until fully combined. Transfer the sauce pan on medium heat and add the slice of lemon rind or 1tsp lemon flavour. Gently add the milk at room temperature, little by little, and bring the ingredients to a boil.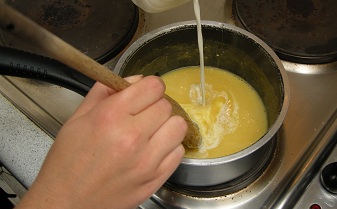 Keep stirring constantly as we don't want a "smoked flavour". Remove from the stove and set aside.
Pre heat your oven at 180°. Work your pasta frolla, using a rolling pin: you need to create a disk who fits the baking tin. The thickness of your cake has to be at least 1.5 cm; if your baking tin is too large, you need a smaller one. Crostata has to be eaten with your hands so it has to be "hard enough".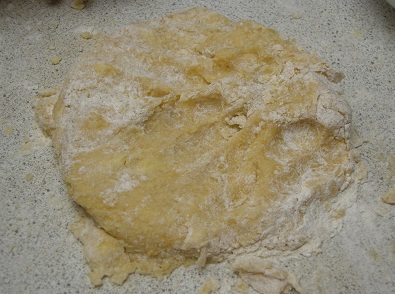 Place the pastry into your baking tin; you don't need to butter the tin. While cooking the butter into the pastry will prevent the cake from sticking. When placing the mixture remember to create a little border so you will be able to eat it with your hands.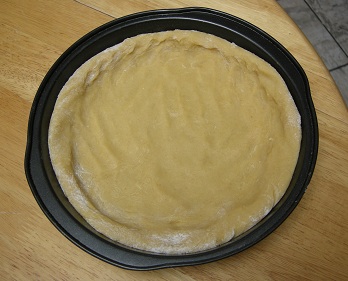 Place the baking tin into the oven and bake it for 30 minutes or unitl golden ( you can use the toothpick test if you are not sure). While the cake is cooling down, add the custard (Crema pasticcera) on the top!Guarnish your cake with fresh fruit and ..enjoy!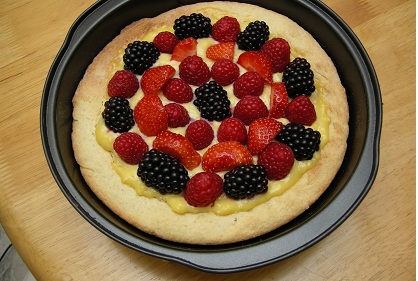 Ps: we love tasty food, don't we? So try to choose only seasonal fruit – you will get the best natural flavour ever. I've heard October is perfect for cox apples… ;-)