Today we are gonna cook the risotto!I love it!It's a perfect main dish but "posh" enough for a special dinner with your friends, parents, partner. Risotto is a typical dish from the north of Italy, in particular from Lombardia and Piemonte (the areas where italian rice fields are located).
I decided to start with an easy one: Risotto Giallo/ Arancio (Yellow and Orange). It's Halloween time after all! :o)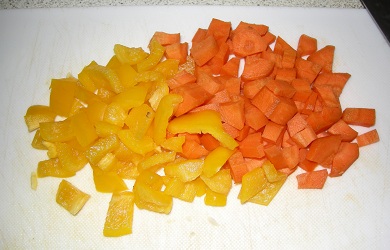 You can choose among a big range of risotto's , depending on your taste and time. To be honest with you the cooking tecnique is almost the same for all the recipes; you just need practice to improve it!
A quick advice before starting- you need to remember the following rules the "Tostatura" and the"Mantecatura":
"Tostatura" should be the first thing to do when cooking risotto. Basically, it is important that your rice is slightly toasted before adding the broth.
"Mantecatura" is the last step and it's necessary if you want a creamy and tasty dish.
Let's start then!
Ingredients (for 4 ppl):
1 cup of rice for each person (Arborio is probably the best)
1 glass dry white wine
2 chopped carrot
2 chopped yellow pepper
half finely chopped onion
fine sea salt
500 ml vegetable stock, heated to a simmer (if you don.t have stock you can use hot salty water but the taste won't be the same)
50 grams of finely chopped parsley
50 grams of grated Parmesan cheese.
Heat 2 tbs of olive oil in a pot over a medium heat. When oil is hot, add the onion and cook until softened. Add the carrot, the pepper and the rice then stir for 1 minute. When your ingredients have softened add the wine and let it evaporate (this is the tostatura!).
Add the first cup of stock and stir constantly until almost all the liquid is absorbed. Add another cup of broth and repeat the previous action. Remember to allow each cup of stock to be absorbed before adding the next. The secret is not to add all the stock at the beginning and leave the risotto cooking on its own. We are not preparing boiled rice, so be patient and follow up your dish!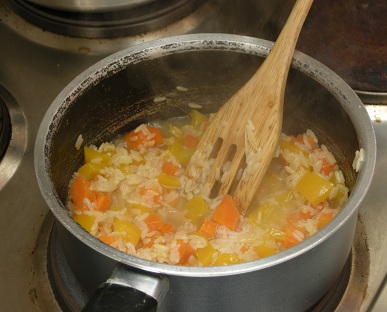 Carry on adding more stock and keep cooking until rice looks tender and creamy (be careful: if the liquid is absorbed too fast you need to reduce the heat).
You can taste your recipe while cooking so you will know when it's time to remove your pot from the heat.
Add your parmesan and a little slice of butter and ensure they melt well with the risotto (this is the mantecatura). Before serving add the parseley and adjust seasoning if needed.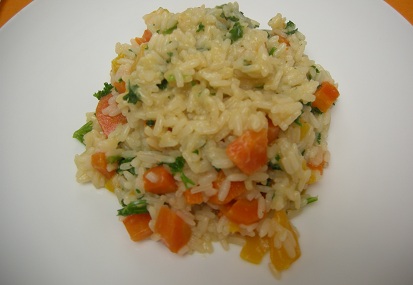 Sorry about the few pics I posted but it's pretty hard to cook and take pictures at the same time