What you need:
chicken drumsticks (6 or 7)
extra virgin olive oil
salt
sage, rosemary and thyme
4 large potatoes
How to make it:
The firs thing to do is marinate the chicken. Mix the salt, the rosemary, the sage and the thyme together and sprinkle the drumsticks with the mixture one by one. Put them in a salad bowl and cover with enough extra virgin olive oil. Allow the chicken to marinate for 2/3 hours.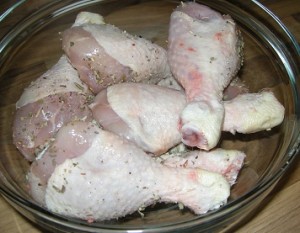 Cut the potatoes in small pieces and boil them for 10 minutes in a sauce pan (remember to add the salt to the boiling water). Pre-heat the oven to 200°C and meanwhile place your chicken in a roasting pan. Add to the tray the potatoes and more olive oil. Remember that the oil will prevent the potatoes from sticking in the baking tray so..be generous! At least 5 tbs of oil are required. Bake in the oven for around 40 minutes and every 10 mins remember to turn the chicken (and the potatoes). If the chicken or the potatoes are too dry add more oil. When the drumsticks are well roasted and cooked (like in the pic) it's time to enjoy your meal.