These cookies are Amazing: I baked them for my husband who is back to school again. He needed a little help with sugars so I decided to bake these beautiful treats.
What you need:
100g pistacchio nuts
100g unsalted butter,softened
100g dried cranberries
200g brown sugar
1 egg
1tsp vanilla
1tbsp honey
125g self raising flour, sifted
125g oats
pinch of salt
How to make it:
Pre-heat the oven at 190° and line 2 baking trays with baking paper.
Mix together the butter and the sugar unitl smooth (better to use an electric whisk). Add the egg, the vanilla extract, the honey and whisk again. Add the flour, the oats, the salt, the pistacchio nuts and the cranberries. Mix well until combined.
You need now to divide the dough in small little pieces (like a walnut), place them on a baking sheet leaving enough space for the cookies to cook. Flatten the cookies slightly and bake them for 10 minutes. Leave the cookies to cool down.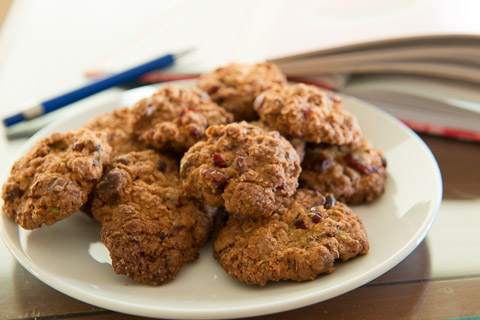 Tips:
if the dough is too stiff you can add little water or milk;
cookies need to be flatten before baking them so they cook evenly;
if the cookies look soft after 10 mins remove them from the oven: they will get the cookie consistency once they are completely cooled down. I learned this after several burnt batches.