Today's recipe is about one of the most famous pasta sauce: the Ragù (or Bolognese sauce!). This is probably the most known recipe among all the Italian food so I decided to share with you the most original version, the one with milk and stock! This is how they cook it in Bologna, the city where the sauce takes its name from.
What you need:
2 chopped carrots
2 chopped celery
1 chopped onion
400 g of minced beef
150 g Italian pancetta
200 g (or 2 cans) of chopped tomatoes
2 tbsp tomato purée
1 glass of white wine
salt
pepper
2 tbs extra virgin olive oil
1/2 glass of milk
1/2 glass of stock (vegetable stock)
How to make it:
The first step is to cook the Italian pancetta in a low heat with no or little oil . While the cubes are cooking finely chop the carrots, the onion and the celery. Add them to the pan and cook until brown. Add the meat and stir well: when the meat starts sizzling add the wine. You can now add the tomato purée, stir well and then incorporate the chopped tomato.
Stir all the ingredients well, decrease the heat to the minimum and cook the ragù for around 1h30 . If you notice the sauce it's too dry you need to add the stock.
Add the milk and incorporate it well to the sauce: this is a trick that will help reduce the acidity of the tomatoes sauce and it is what the original recipe for the ragù says.
Cook the sauce for another 30 minutes, adjust in salt and pepper and your bolognese is ready!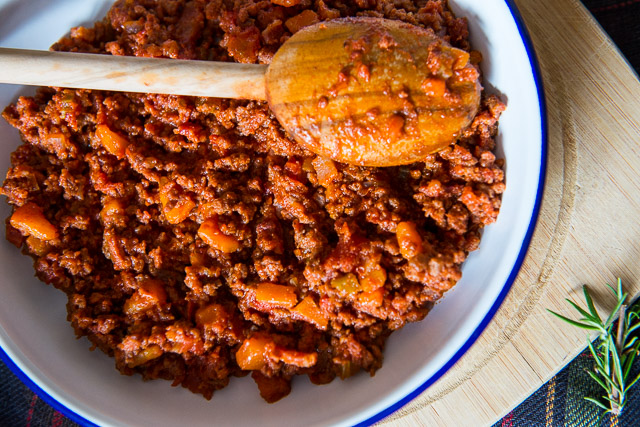 Tips:
you can use bacon instead of Italian pancetta;
no need to add oil while you are cooking the pancetta as it will release its own fat;
for more flavour you can add sage and rosemary leaves with the vegetable;
do not add Parmesan cheese while preparing the sauce: this can be added to the final dish (i.e. with pasta) but the original recipe does not include cheese;
the best pasta shape to enjoy this sauce is tagliatelle but it can fit any type of pasta. Bolognese it is also perfect to fill tacos or simply - with ciabatta bread.