Today I made this nice lemon cake for R.! It took me only 15 minutes plus 30 in the oven. Happy sunday everyone :0)
What you need:
3 large eggs
200 g sugar
250 g flour
1 cup lemon yoghurt
20 g baking powder
lemon essence
1 pinch of salt
some slices of lemon
How to make it:
Preheat the oven to 180°C and meanwhile grease and flour a cake pan.
Put the eggs in a bowl and mix them well with an electric mixer for 2 minutes. Add the sugar and whisk it together with the eggs.
In another bowl sift together the flour and the baking powder and then slowly whisk the dry ingredients into the wet ingredients. Add the salt and make sure it's fully incorporated in the mixture. Add the yoghurt and the lemon essence (1 teaspoon should be enough) and gently whisk with a wooden spoon.
Pour the batter into the pan, add the slices of fresh lemon on the top and bake for about 30 minutes at 180°C. Below your cake: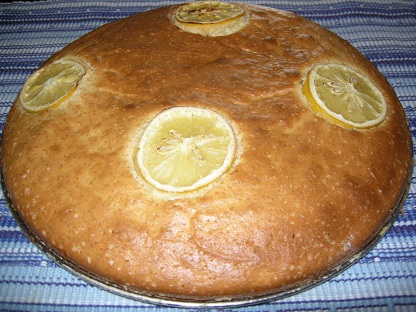 Tips:
if you are not sure about the cake after 30 mins in the oven you can check with a toothpick. If it comes out dry the cake is ready.
you can add some icing sugar or serv your cake with some ice cream on the side.