t's spring time (well, in Dublin not really but let's consider the calendar, not the weather)! This is the perfect recipe to prepare for your Sunday's afternoons or maybe just because you need to make a dessert for your friends! So here we go with one of the best Italian dessert in a very fresh version: TIRAMISU WITH STRAWBERRIES.
What you need:
3 eggs
250 grams mascarpone cheese
40 grams sugar
Savoiardi biscuits (2 packages)
400 grams of fresh, red strawberries
2 oranges
1 lemon
How to make it:
Let's start by cleaning the strawberries, remember to keep some of them for the decoration. Wash tand cut them in small pieces, then put them in an bowl with the orange and lemon juice and leave them in the fridge for 15 minutes.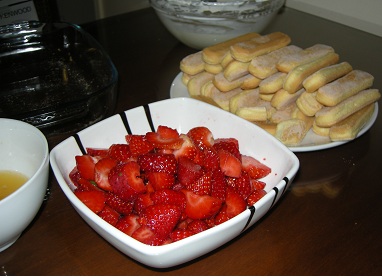 Meanwhile you can start preparing the cream. Separate the eggs and beat the yolks togheter with the sugar. Gently add the mascarpone and stir with a wooden spoon. Beat your egg whites until stiff peaks form in your bowl. Add them to the cream.
In a different bowl squize the other orange, add 2 tbs of water and the liquid of the strawberries.
Let's start now to create our tiramisu: put some cream on the base of your cake tray, take the savoiardi biscuits and dip then into the strawberry juice. They have to be moist enough but be careful not to break them..we all know how are biscuits with liquids ;0)!
Gently dispose them in the tray and when it is all covered, add some of the cream on the top. You can now add the strawbeerries. If you prefer you can blend them with a food processor so you will have a nice sauce..Personally I prefer to eat the strawberries. You can now add another "floor" of biscuits and then again the cream. When all your cream is finished add the strawberries for the decoration on the top and put the tiramisu in the fridge.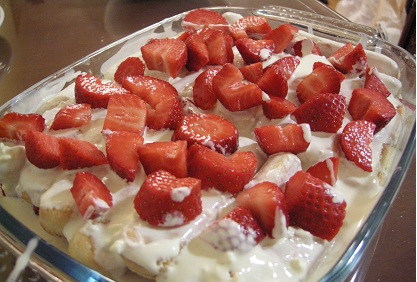 TIP: If you want to have a better result you can prepare your dessert the night before serving it!