From Spain with love! The tortilla de patatas (omlette with potatoes) is a very easy recipe to prepare and it's perfect for your lunch box or for a pic nic.
What you need:
4 eggs
3 large potatoes
salt
1 small onion
How to make it:
Wash and peel the potatoes, cut them in small, irregulars pieces (if you prefer you can slice them). Heat some olive oil on a fry pan and when it is very hot add the potatoes. Keep cooking until golden-brown. Remove the pan from the heat, drain the oil and set the potatoes aside.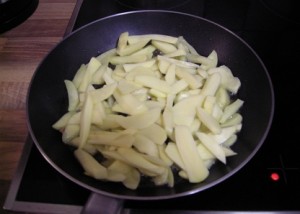 Beat the eggs togheter, add the salt and slice the onion. Cook the onion for few minutes in the same fry pan until tender, add the potatoes and as last ingredient add the eggs.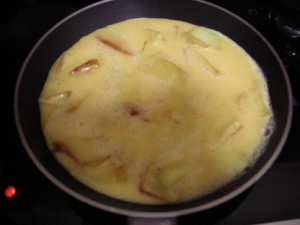 Cook the tortilla initially on a high heat and after few minutes decrease the temperature. Cook for additional 2 minutes.
Now the hard part: you need to turn your tortilla. You can do it by using a plate as the top of the dish is still too liquid to turn it in the pan. Cover the fry pan with a plate. Quickly rotate the pan on the plate (basically you want to transfer the tortilla in the plate) and then put the tortilla back on the pan.
Cook the other side of the tortilla for additional 5 minutes or until firm. You can turn the tortilla again if you wish a perfect finish.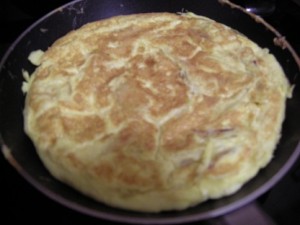 TIP: if you like you can also add some parsley to the eggs. This is not part of the original recipe but it gives the dish an extraordinary taste.