One of the most common Italian sauces.
What you need:
50 g unsalted butter
2 tbs whit flour
250 ml skimmed milk
black pepper/nutmeg
How to make it:
Warm the butter in a sauce pan over a medium heat and when completely melted add the flour. Whisk well to combine the ingredients. Gently start adding the milk to the mixture: add a cup at time and while doing it continue to whisk. If you don't do it, the ingredients won't combine well. Add little by little all the milk and keep cooking for at least 10 mins.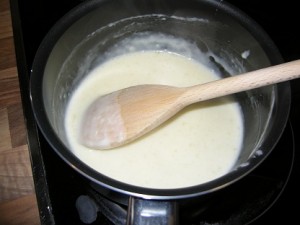 TIP: If you prefer a more liquid result, don't cook it for more then 5 mins after you have added all the milk. You can add some black pepper or nutmeg at the end, if you like.