It has been a while since my last post. Ah, such a busy life..:) Anyway, I really hope you will enjoy today's recipe: LASAGNA! Probably the most famous dish of the Italian tradition.
Lasagna is a very tasty and easy recipe BUT there are few important things to keep in mind. First thing, the quality of the pasta. This is vital for your dish. Many blogs and books advise you to boil the lasagna sheets before assembling the dish, well, do not do it! If you buy a good quality brand of pasta you don't need to pre cook them as they will cook in the oven with the other ingredients. In my dish I used De Cecco sheets, they are the best. Especially if you make lasagna for the first time, make sure you buy good quality pasta. I don't recommend you to buy cheap brands – the result is awful.
Second thing: the traditional recipe for lasagna includes 4 main ingredients: pasta, ragù (meat sauce), besciamella and parmesan cheese. All the rest is optional. Of course you can add mozzarella cheese, vegetables, ham, chicken..whatever you want but they are not part of the original recipe.
Last but not least: try to make your own hand made besciamella sauce, don't buy it. It is not difficult, you just need some practice. But I guarantee you that the result will be amazing.
What you need:
500g of lasagna sheets
500 g of ragù
300 ml of besciamella sauce
100 g grated parmesan cheese
How to make it:
Pre heat the oven at 200C°. Pour a thin coating of besciamella sauce into a non-stick tray. Make sure all the tray is covered with a bit of sauce, alternatively you can coat it with butter or olive oil.
Arrange the pasta sheets in order to cover the bottom of the baking dish, then add the ragù and the besciamella sauce. Cover the sauce with another layer of pasta, then again with the meat and the besciamella. At the end you should have 3 layers of pasta.
Cover the top with the ragù and the besciamella sauce left and spread all over the parmesan cheese. This will make sure your lasagna gets a bit crusty on the top.
Cook your dish for 35 minutes at 180°C and serve very warm. It's perfect with a glass of red wine!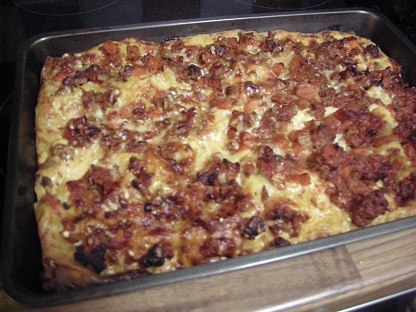 TIP: if you like you can add some parmesan in between the layers of the lasagna, but remember to keep most of it for the top.