Well, let's now celebrate this lovely day with a fresh receipe (finally spring looks to be in Dublin). I actually invented this receipe and at the beginning I was a bit scared of the result! With my big surprise (and also my boyfriend's one) the risotto was fantastic. I hope you will enjoy it too!
What you need:
1 cup of rice for each person
2 tbsp extra virgin olive oil
half chopped onion
100 grams green asparagus
125 ml natural yoghurt
2 or 3 mint leaves
2 cups of warm water
1tsp salt
How to make it:
Heat some extra virgin olive oil in a pan fry and when it's hot add the onion and the chopped asparagus (rember to remove the woody ends of the asparagus before cooking them). Cook the vegetables for few minutes and then add the rice. Before the risotto starts sticking, add 2 cups of water and cook it for 7/8 minutes or until the water is all evaporated – remember to stirr constantly and gently!
When all the water has evaporated you will need to add the yoghurt and cook the risotto with it. This will make your recipe more creamy and will provide it a really nice, fresh taste. Just note that while cooking the yoghurt will become very liquid (as in the picture); don't worry, this is normal but don't forget to stir it: ALWAYS!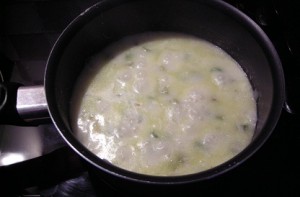 Keep stirring the rice until all the liquid has gone: this will take around 10 minutes and after this time the dish should be ready (if you are not sure you can always taste your rice and see if you need to cook it more or not!). When no more yogurt is left and your "mantecatura" has been performed the last step is to add the mint leaves, the salt and if you like a pinch of parseley. Serve the risotto immediately and if you like add some Parmesan cheese on the top . In the picture below you can see the dish finished. I know it's not a great picture but believe me, you will love it!